Snowboarding with uncomfortable or cold feet is no fun for anyone! So making sure your child has good fitting, good quality boots is important.
One of the main issues with kids snowboard boots, for both buying and renting, is availability for the smaller sizes. You may struggle to find boots under a size UK1.So think about pre-ordering at the start of a season, or as soon as new stocks come out, if you are buying. If you are renting, make sure you reserve or source boots before you head out on a trip .
Thankfully as each year passes more and more kids equipment is going on sale or becoming available to rent so, hopefully, this problem won't be forever!
What type of boot?
There are a few different types of kids snowboard boot. Some use velcro to fasten the boots, this keeps the boot cost down and makes boots easy-on and easy-off – ideal for younger riders. There are also 'boa' style lacing systems (a wire or harder lace tightened by turning a dial) these are also pretty quick and easy to get on and off. Then there are traditional laces – although on larger sizes sometimes they have some sort of 'fast-lace' system.
..it is important to check that your child's boots fit into their bindings and vice-versa before you buy differing makes!

Some kids boots are linerless and some have removable liners. There are pros and cons with each. Smaller boots tend to be linerless simply due to the size the boots would have to be to incorporate a liner and also the importance of movability and flexibility for young children learning to snowboard. However, having a liner means more insulation and cushioning for feet and easy drying of damp boots!
There is no right or wrong answer – as long as you find a boot that is comfortable, supportive and fits your child you are onto a winner!
Also remember that it is important to check that your child's boots fit into their bindings and vice-versa before you buy differing makes! As sizing can vary hugely  from brand to brand!
You will be looking at around £40-£160 for a boot depending on style and size.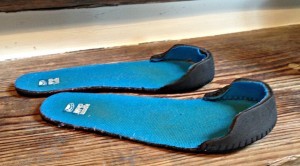 Boots that can grow!
A great feature on many kids snowboard boots are removable inner soles which enable the boot to go up half or a whole shoe size – perfect for when your child has an unexpected growth spurt or for getting an extra season from a pair of boots!
Most kids boots are fairly soft which helps them manoeuvre their boards and keeps their feet comfy! However, if your child is older, rides hard or a lot, watch that their boots are not too soft or become too soft. This can affect their board control as they will lack the response when turning and holding an edge, especially on their toe edge.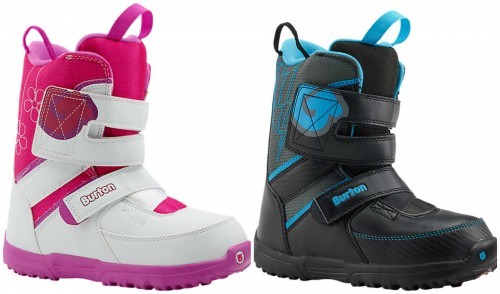 The Smallest Boots – ever!
Probably the best selling kids snowboard boot, which is also one of the most widely available and cheapest, is the Burton Grom.
And as from Autumn 2014 it will be available in a tiny UK6.5 (US7 EUR24) – although you may need to order to get those small sizes.
Sizing
Sizing can be confusing especially as some manufacturers are US based and some European, so often boots are labeled or for sale with a mix of sizing – below is a comparison chart for UK,US and EURO shoe sizing. Bear in mind that all brands and sizes differ slightly and this is just a guide.